Gerbera daisies (Gerbera jamesonii), sometimes called Transvaal daisies, are commonly grown for their bright, showy, and cheerful daisy-like flowers. They are native to South Africa and come in many sizes and colors, including yellow, salmon, orange, pink, and white, with flower measures up to anywhere from 2 to 5 inches (2 to 13 cm) across.
Whether you want to plant gerbera daisies with other greeneries or use the blooms as a beautiful mix of cut flowers, you need to know which plants and flowers complement this colorful beauty. Many people want to grow gerbera daisies because of their beautiful flowers. To make the most out of these plants and their gorgeous blooms, you also need to know how to mix colors and make your plants produce fresh and healthy flowers.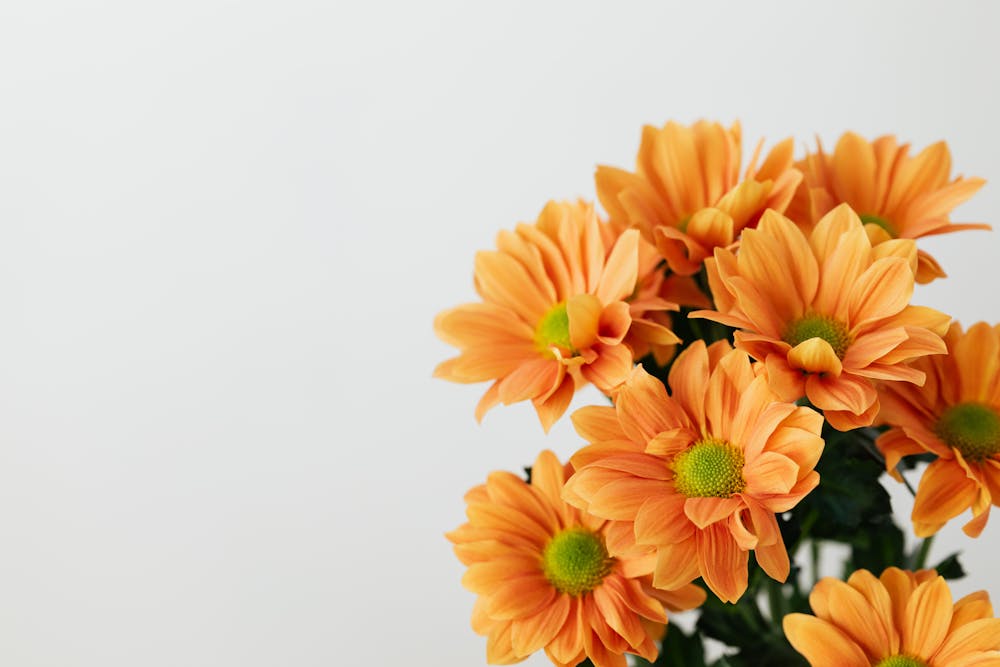 Gerbera daisies have striking flowers in vibrant colors. These are very attractive and memorable. However, it also means that they might be a little hard to mix with other plants with flowers of subtle colors. That can cause a problem when you wish to combine your gerbera daisies into a flower bed with different plants.
Greens that compliment gerbera daisies have similar growing requirements, such as full sun, well-drained soil, and regular moisture. Because gerberas are not constant bloomers, variegated or textured companion greenery can add excitement to planting schemes.
One of the best greeneries to grow with gerberas, especially in containers, is the sweet potato vine (Ipomoea batatas). The deeply dissected foliage is chartreuse, bronze-purple, or variegated, depending on the variety. Another good pair is the licorice plant (Helichrysum petiolare), with gray-green foliage that contrasts pleasantly with the yellows, oranges, or reds of gerbera flowers. It needs room to spread when not grown in containers.
It is best to mix gerbera daisies with only one other plant to avoid the clashing of colors. If you want to combine them with more than one plant, use only a few plants at the most. That will prevent the overt clashing of colors, and it will not make your flower bed look too full.
Gerbera daisies seem to fit the best with plants that have delicate flowers or foliage. It can create a pleasant contrast but without clashing. Diascia and calibrachoa seem to work great to combine with gerbera daisies. Lobelia and sages have tiny and spiky flowers that match well with striking gerbera daisy blooms. However, make sure to arrange flowers of complementary colors.
You can underplant gerberas with many different trailing groundcovers. Bugleweed (Ajuga reptans) blooms early in the spring, with blue flower stalks, but usually serves as a stable backdrop to other plants.
Some of the fragrant-leaf geraniums (Pelargonium x fragrans) make great companions for gerberas. They flower, but those are relatively small and insignificant, and their scented leaves provide an added dimension to the garden.
Caring gerbera daisies for cut flowers
Since flowers are the main reason people plant gerbera daisies, it is crucial to make sure that your plant produces beautiful blooms. That requires a little care, but it is manageable to make your gerbera daisy survive, thrive, and produce beautiful flowers.
Remember to cut gerbera daisies when the flowers fully bloom, but the center is still tight. That is the right time to take the blooms from your plant and the best moment to use them as cut flowers, since the stems will use up a lot of water if you equip them with it, which can also prolong their lifetime.
However, keep in mind that excess water can be counter-productive. It may shorten the endurance as cut flowers. It is best to store cut flowers in about ½ to 1 in. of water. Add more only when required. Watch out for the stems because once they start to fade, it is time to get a fresh cut.
Gerbera daisies as get-well-soon flowers
When your friend or family member is sick, you want to make wishes for their rapid return to health by sending floral gifts. Instead of just choosing a collection of flowers that is pleasant to the eye, pick a floral arrangement that is as meaningful as it is charming and conveys your message to wish them a speedy recovery.
Bright and lively gerbera daisies make an excellent flower choice when sending a get-well-soon message. Send a collection of beautiful colorful gerbera daisies on your get well soon hamper to give the recipient more energy and brighten her life.
The fresh and happy colors of gerbera daisies can bring optimism and positivity to your loved one that needs more moral support. Gerbera daisies make a magnificent addition to a get-well arrangement or bouquet, sending a message of hopefulness that can lift spirits.
For those who want the gift to be more memorable, a companion gift can make a lovely addition to any bouquet. Receiving get well soon flowers and chocolates, even along with a get-well-soon balloon, is sure to cheer up your loved one. Be more thoughtful by attaching a card written with your message.